For today's post I am doing my first book review. I can think of no book more worthy than David duChemin's "Vision Mongers: Making a Life and a Living in Photography".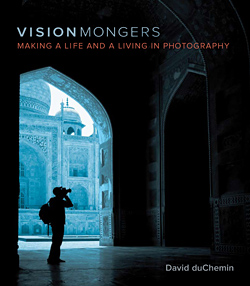 Unlike a novel where you can judge how much you enjoyed a book based on how quickly you read it, I judge the value of a "how to" book by the length of time it takes to go through it. It's a little embarrassing, but it took me 7 months to read Vision Mongers.
Why did it take so long? Because it is not a simple story where you continue from one sentence to the next without much thought. On the contrary, each concept presented in the book requires time to comprehend, digest and assimilate. From exploring what you have to offer as a photographer, to defining your vision, to branding and marketing, each concept requires the reader to think and to take action.
I was careful not to break the spine on my beloved book, but it is well worn. Its corners are bent, the edges of its pages are worn, it is full of flags where I have marked specific pages I need to return to. When I turned the last page, I returned to the cover to admire it and I felt the paper it is made of.
One of the things I like most about the book is the action steps. When a concept is put forward, there is a specific task the reader must complete in order to make the most of the book. And duChemin is adamant that the reader actually does the task. He will stop the narrative to reiterate that he really means for you to put down the book and go make a list or go do some research.
Consider what I have accomplished in the time I went through the book: I now know what kind of photographer I want to be; I know what I have to offer; I have defined my vision of myself as a photographer; I have a brand: my web page, blog, facebook page and twitter page all reflect the brand; I know who my potential clients are and how to go about marketing to them. Not only that, but I have gained the courage to pursue my dream in a way that is unique to me.
Having said that, it is always a work -in-progress and I am in the midst of integrating my blog and gallery with a slightly different look and feel.
Another wonderful part of the book is the photographer profiles that are interspersed throughout. Photographers I already admired such as Darwin Wiggitt, Gavin Gough and Chase Jarvis as well as a few whose work was new to me. I very much enjoyed and was inspired by the stories of their beginnings and experiences in their careers.
I was using my receipt from Amazon as my bookmark. I don't know why it isn't like I don't have any nicer looking bookmarks hanging around in the bottom of drawers. But it was a reminder at the end: I paid $26.99 and I cannot think of a single thing I have purchased to aid my photography that has had more value.
You can find information on how to buy David duChemin's book on his website.