I do. I am one of those photographers who are always waiting for the people to get out of the way.
I will set up with a beautiful scene in front of me, find the right angle, and wait for the perfect light when some dude with a white shirt walks in front of me.
I have attempted to included people in some of my city photographs. I try to get people walking in front of a mirrored building maybe creating a motion blur as they go by. But inevitably that will be the one time people refuse to walk in front of my camera. They will see me and think they are doing me a favour by stopping and even changing direction to walk behind me. Why doesn't that ever happen in landscapes?
A couple of times I have approached a person to ask awkwardly if I can photograph them and then take my shot as quickly as possible and run away. When I look at the photo later I will wonder why I didn't spend an extra minute and get a better pose. It's just not my thing.
But I am trying to grow as a photographer so, in an attempt to broaden my horizons, I read a new photography ebook I have been hearing a lot about "Rabari: Encounters with the Nomadic Tribe" by Mitchell Kanashkevich.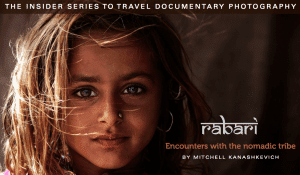 I was immediately captivated by the cover image of a young girl staring right into the camera with the most beautiful backlight and shadows. Inside the book Kanashkevish walks through it and 9 other images detailing exactly the steps he went through to make each one. He explains what he saw, how he envisioned the photograph, and how he made it happen.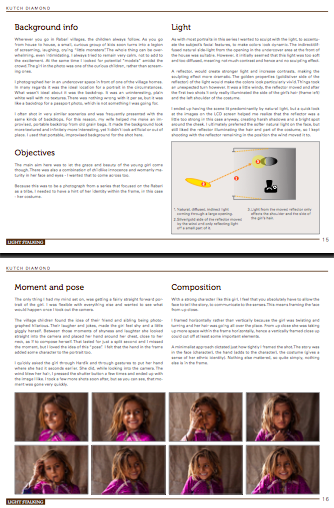 The book is beautiful. That is very important to me since I made a personal decision to only photograph beautiful things. It helps me become a happier person. But I find that many travel documentary images include stereotypes, shock imagery, or images of poverty. While it is important to increase awareness of issues like poverty, I feel there are not enough positive images in the world. It is always an image of a bedraggled, homeless, sad person with wrinkles in black and white.
Kanashkevish's ebook contains images of beauty, wisdom, emotion, youth, and colour – it is refreshing to see such a positive view.
Here are a few things I learned from the ebook:
the face tells the story, you have to be close enough to show details of the face
include unique things that tell something about the person such as their surroundings or their clothing
use light to sculpt facial features to create depth in the face
using a pose that is natural to the person brings out their personality. Often the pose is observed at a prior time or happens in between shots and the subject is asked to take the same pose.
the reason I run away too fast when photographing people is probably because I have self-imposed doubts. I think I am going to make the person uncomfortable when really it is me that is uncomfortable. Rationalizing the situation in my head should make this go away. I am photographing a person for a purpose and asking them to pose is not asking too much if they indicated they were willing to be photographed in the first place.
So now the tough part, putting what I have learned into practice. After making an image of this bridge reflecting in calm waters I noticed a man fishing from shore. While I didn't actually speak to him, I did make an image with him in it.
Baby steps, baby steps 🙂 Please click the image to view a larger version.
Next time I am determined to actually talk to a person, make a connection, focus on the face and use light to sculpt the features.
If you want to improve your travel photography, or indeed portrait photography, try reading "Rabari" which is available from Light Stalking.
Note: this is an affiliate link so if you decide to purchase a copy you will be supporting my blog at no extra cost to you.
If you like photography ebooks, don't forget to download a copy of my free ebook "8 Types Of Natural Light That Will Add Drama To Your Photographs."