It is a disappointment all photographers face at some point. In fact, it is a disappointment most photographers face on every shoot!
There are so many things that can go wrong, so many mistakes that can be made to cause a photograph to be blurry. It's inevitable.
Here are 5 common reasons why your photos are not as sharp as you want them to be:
1. Your shutter speed is too slow
I put this one first for a reason! It's by far the most common culprit. Now, this doesn't apply if you are using a tripod for landscape photography. But if you are hand holding your camera it certainly does apply. Even more so if you are doing wildlife photography.
First let's talk about general photography. There is a rule of thumb that your shutter speed should never be slower than the reciprocal of your lens. So if you are using a 300mm lens, you should never go slower than 1/300th of a second.
But even if you are using a short lens, like 50mm, that doesn't mean you can go as slow as 1/50th of a second! I recommend you do a little test to find out what your own personal slowest shutter speed is. Everyone shakes a little, and some more than others. A lot of people can go as low as 1/80th of a second. Personally, I never go lower than 1/125th of a second.
It's worth spending a few minutes to test yourself at different shutters speeds, look at your photos on your computer after, and see at what point they start to look out of focus.
When it comes to wildlife photography, well that's another thing all together. For wildlife that appears to be not moving, like a bird standing perfectly still, I recommend not going lower than 1/500th of a second. If it is moving at all, then 1/1,000th of a second. And if it is flying or running, even faster.
You might have to compromise on ISO to get these high shutter speeds, but it's better to have a noisy image that is sharp than an image that is blurry. You can't fix blurry.
2. You are not focussing in the right place
Cameras these days are so smart. Or at least they think they are 🙂 But really, a smart camera is only good at doing what you tell it to do. If you don't tell it what to do, it will just guess.
It might sound great to have 64 focus points on your camera, but it doesn't help if you don't tell your camera which of them to use. If you just let your camera choose from all the possible focus points, it will probably choose to focus on whatever is closest to the camera, and that might not be your main subject.
Try changing your focus area to one single point. You don't have to pick the center point all the time. There will be a way that you can easily move that focus point around to pick one that is off center. This will give you good practice at making sure the right thing is in focus.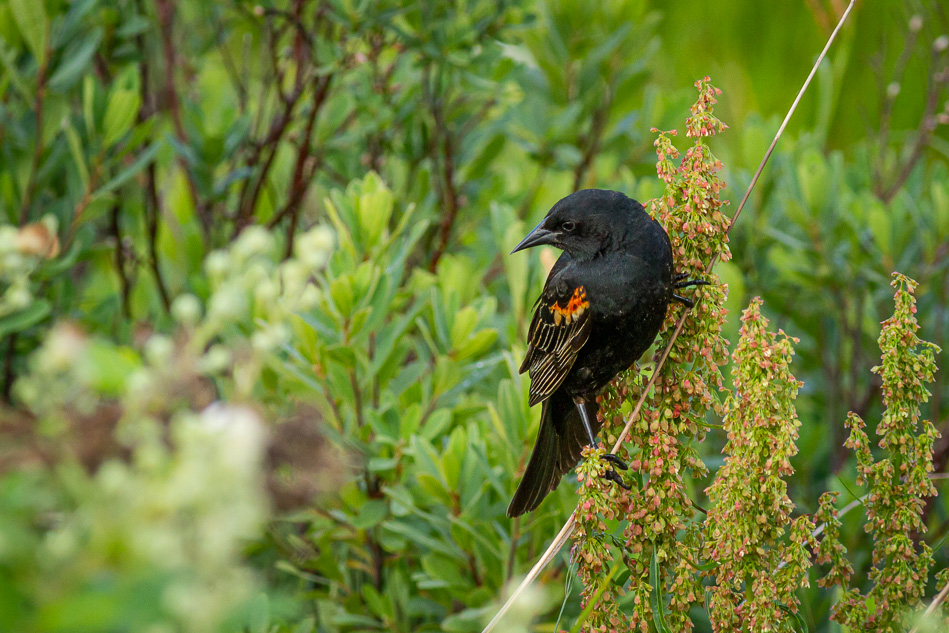 I'm not saying the other focus areas are not handy although I personally never use the area with all the points or the zones. But I do like the focus area setting that expands to the 4 points next to the main one you pick. That is great for subjects that are moving.
3. You are using the wrong focus drive mode
When you are photographing stationary subjects, you should use single-shot focus, known as AF-S or One-shot AF. If you use continuous focus mode on a stationary subject, your camera will be continually trying to focus which can actually introduce blur.
When you are photographing moving subjects, make sure you use continuous auto focus, known as AF-C or AI Servo, which will track motion. This is especially important for wildlife when you always want the eye to be in focus, but the eye is getting closer as the animal moves.
There is often another focus drive mode on cameras which is an automatic mode. If you use that, you are allowing your camera to decide which of the previous two focus modes is best. Again, the point of having a fancy camera is to be able to tell it what to do, so I don't recommend using that focus drive mode.
4. Your aperture is too wide
Everyone loves those shots that have shallow depth of field where the main subject is in focus and the background is all soft and dreamy. But that doesn't mean you should shoot wide open all the time.
When your aperture is at it's widest opening (a low f stop number like f/2.8 or f/5.6) you will get shallow depth of field. But if you are having trouble getting your subject in focus, give yourself a little leeway and close down the aperture a little. Try f/8 or f/11. That way the depth of field will be a little more generous, meaning more things will be in focus both in front of and behind your focus point.
It's nice to be exact and get the eye of the bird in focus, but if it isn't working out, try using a smaller aperture to increase your chances.
5. You are using a poor quality lens
While a lot of people are quick to blame their lens instead of their technique or their settings, I have to say it is not usually the lens. But it does happen.
If you think you have covered all the other things that could possibly be causing your photos to be blurry and you suspect your lens, you might need to calibrate it.
The first step is to do some semi-scientific testing to make sure it really is your lens. Start by testing the lens on another camera body to see if you get similar results. Then test your camera with another lens. That should give you an idea whether your suspicions might be true.
If you still suspect your lens, then some more semi-scientific testing is in order. First, check your camera manual to see if your camera enables you to set micro-focus adjustments. If so, you should be able to correct any minor errors in focus that are happening.
In the video below, I explain exactly how to set up your test and what tools to use. You can see how I used this process to determine that my brand new and very expensive wildlife lens was a lemon!!
Click here to watch the video on YouTube.
If you find you need to go this route, I recommend the Datacolor SpyderLENSCAL autofocus calibration aid. Trying to make your own tool is just one more thing that can go wrong!
It doesn't always turn out the way mine did in the video. I have used the SpyderLENSCAL on other lenses to determine when the focus was off by just a tiny bit, and then setting the autofocus micro-adjustment in my camera to compensate, with fantastic results.
Calibrating your lens may not be a fun process, but when all your images start coming out sharp, you'll be glad you invested the time to do it.